Impunity Ends in Bolivia: Teachers Convicted for Sexually Assaulting Students Avoided Prison for Years
Conviction
LA PAZ, BOLIVIA – All around the world, school is a place of learning and dreaming. It's a place where children can reach for opportunities that could alter a family's future forever.

But for many girls in developing countries, school is a place full of threats—the World Health Organization says sexual violence at or on the way to school is common. In fact, according to Human Rights Watch, it's a main reason girls drop out. The IJM team in Bolivia is working to change this devastating reality.
Silvia's* Case
Like most kids would be, 8-year-old Silvia was excited to watch a movie during class. But during the movie, her teacher called her to the back of the darkened classroom and sexually assaulted her. Later that same day, she told two of her friends what had happened. They said the teacher had done the same bad things to them. At first, the girls kept quiet, afraid that they would get in trouble.
But the next day at school, the girls talked again and decided to tell another trusted female teacher. The teacher immediately called their parents, who filed charges right away. Because there are so many cases in Bolivia's overcrowded court system, a good lawyer is critical to moving a case forward.

But neither Silvia's parents nor the other impoverished families could afford to hire private legal counsel. The teacher who had abused them, on the other hand, hired a lawyer right away.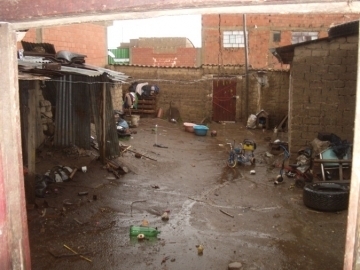 The home where one of the clients IJM represented in
court lives with her family.
After nearly a year of nearly no progress, a government official told IJM about Silvia's case. An IJM lawyer met with Silvia's family and took on the case. She helped officials obtain new evidence and find expert witnesses who could testify to strengthen the case. She explained every step of the legal process to the families, who had been trying to navigate the slow, complicated system on their own.

IJM's aftercare team also offered therapy to Silvia and her friends. When the time came for them to testify in the trial, IJM's lawyer made sure the teacher would not be within eyesight to intimidate and re-traumatize the girls. In Bolivia, victims often have to testify in front of their perpetrator. A lawyer must ask the judge to require the perpetrator to leave the room, or, at the very least, put up a screen. In Silvia's case, the IJM lawyer successfully advocated for the teacher to leave the courtroom when the girls took the stand.

After ten months of perseverance in court, Silvia's teacher was convicted and sentenced to ten years in prison. Silvia's father was floored—the courts had sided with the truth the young students had shared over the word of a teacher who had money and power. He said, 'I've waited, I've waited for this day.'

Luti's* Case

Luti was also routinely sexually assaulted at school, but she suffered in silence for years. Her P.E. teacher assaulted her more than a dozen times, forcing her to keep silent by threatening her and her five younger siblings.

When she was 14 years old, Luti discovered that she was pregnant as a result of the abuse. Knowing she could no longer hide the awful truth, she revealed the abuse to her parents.

Luti's parents reported the crime to local authorities, and an official suggested they seek help through IJM, knowing the family wouldn't be able to afford a lawyer.

The IJM team that met with Luti and her parents when they first showed up described them as 'isolated and fearful, yet determined to see justice done for their daughter.' IJM's attorney assured the family that they were no longer alone in the battle. IJM ensured strong evidence was collected, including a DNA sample that confirmed the P.E. teacher was the father of Luti's child. After eleven months in court, Luti's P.E. teacher was convicted and sentenced to
twelve years in prison.
The Convictions Marked the Beginning of a Battle
Although both teachers had been convicted, neither was yet in prison.

In Bolivia, felons have two chances to appeal their convictions. The law requires a judge to review the appeal case within twenty days. But due to a serious lack of capacity and no mechanism in place to hold judges to this requirement, appeals can drag on for many months. For Silvia and Luti, securing meaningful justice took years.

The court rejected the first appeal case each teacher filed. But each teacher filed a second appeal, which went before the Bolivian Supreme Court. This is when the real challenges began: In 2011, as the nation restructured its courts, the Bolivian Supreme Court stopped hearing cases for an entire year.

The delays were maddening. In Bolivia, there is no sex offender registry. While nothing happened in court, both teachers found new jobs: Silvia's teacher started teaching at another school, and Luti's P.E. teacher was working with 3- and 4- year-olds.

It had been years since they were convicted, and the men had no reason to think they would ever be held accountable for their crimes against Silvia and Luti.

As one IJM investigator explained, "Oftentimes, perpetrators in Bolivia have the mentality that cases are just going to be forgotten, that charges will be dropped, and that it will be easy to simply move on with their lives without consequences for their actions."

Meaningful Justice Brings Restraint
When the Supreme Court reopened in 2012, they decided to prioritize new cases over those that should have been heard in 2011. An IJM attorney learned that some judges were willing to review backlogged cases if prosecutors traveled to the court to present evidence again.

After making the 400-mile trip to the Supreme Court for oral arguments in Luti's case, there was little more to be done than send letters and make calls to court administrators to ensure the cases progressed.

Finally, in late 2013, the Supreme Court upheld both convictions.

With the convictions secured, IJM worked with local law enforcement to finalize paperwork that was necessary to issue new arrest warrants to actually send the men to jail to begin their sentences. Then IJM's investigators worked with police to develop a plan.

Within a single week in February 2014, the teachers' reign of impunity ended. IJM helped police facilitate the long-awaited arrests, and both teachers were taken into custody. One of the IJM investigators on the operation said Luti's teacher—the one now working with 3- and 4-year-old's—was speechless when he was actually being arrested. Despite having been convicted of sexual assault and having his appeals denied two times, he was genuinely surprised that he would be going to prison.

After more than six years of IJM's relentless advocacy and an unflagging commitment to see the case through, both men are now serving out their sentences.

The IJM investigator added, "Capturing these men not only showed these young girls that there is justice, but it has also ensured that countless children are no longer in danger of abuse."

For many poor girls, school is the most common place where sexual violence occurs—and sexual violence, or feared sexual violence is a common reason girls leave school.
*A pseudonym.
Note: The teacher who sexually assaulted Luti was convicted in 2008. He appealed the conviction, and despite strong DNA evidence that he fathered Luti's child, the case dragged on for five more years, until the Supreme Court finally upheld the ruling.
An IJM social worker visits with one of the girls. In addition to providing legal counsel, IJM offered aftercare services, like therapy.